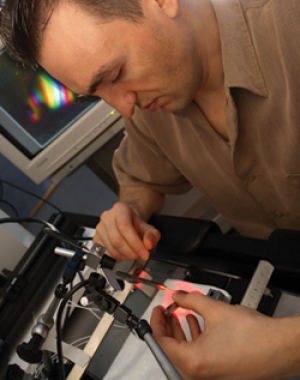 Executive Director:
Dr. Haluk Ogmen
Director:
Dr. A.J. Jacobson, Philosophy
Participating Faculty
Drs. H.E. Bedell, S. Chung, College of Optometry
Drs. B.G. Breitmeyer, M. Hiscock, Psychology
Dr. K. Josic, Mathematics
Dr. M. Kurz, C.S. Layne, Health and Human Performance
Drs. J.R. Glover, B.H. Jansen, V. Kalatsky, A.M. Kayali, B. Sheth, Electrical & Computer Engineering
Website:
cnecs.egr.uh.edu
The Center for Neuro-Engineering and Cognitive Science is dedicated to the study of the nervous system and the application of engineering principles, techniques and tools to neuroscience. These efforts focus on four major areas of research: brain wave analysis, visual perception, cognition and behavior as well as imaging and stimulating the brain. 
The history of CNECS dates back to 1996 with the founding of the UH Cognitive Science Initiative. The goal of the initiative was to encourage collaboration and interaction among the university's different colleges and departments.
That mission still holds true today.
One of CNECS defining characteristics is its interdisciplinary nature, said Haluk Ogmen, executive director of the center and chair of the department of electrical and computer engineering. This approach, he said, reflects the reality of how many significant scientific advances are achieved today.
"The basic structure of academia, in terms of colleges and departments, is mainly designed for granting bachelor's degrees," said Ogmen. "But when you do research, this structure doesn't always work. It's very difficult to stay in a narrow field—things are much more interdisciplinary now than they were 20 years ago. The center provides a structure for people from different departments to work together."
Research at the center includes theoretical (mathematical modeling) as well as experimental approaches. Theoretical techniques include building sophisticated models of the brain and mind. Experimental techniques cover behavioral methods as well as various imaging modalities such as optical imaging, electroencephalography (EEG), magnetoencephalography (MEG)  and functional magnetic resonance imaging (fMRI). CNECS researchers investigate brain function in both its normal and abnormal states.
In addition to providing this structure for interdisciplinary research, the center seeks to provide education of an interdisciplinary nature, offering courses and a certificate program in cognitive science.