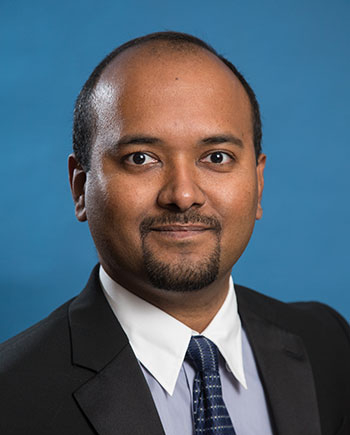 Dr. Harish S. Krishnamoorthy
Office Location: N330 Engineering Building 1
Phone: 713-743-7382 | Fax: 713-743-4444
Email:
hskrishn

[at]

uh [dot] edu
Education:
Ph.D., Electrical and Computer Engineering, Texas A&M University, College Station, TX
B.Tech., Electrical and Electronics Engineering, National Institute of Technology (NIT), Tiruchirappalli, TN, India
Professional Experience:
Schlumberger REMS, Sugarland, TX, 2015-2017
General Electric (GE) Energy, Hyderabad, AP, India, 2008-2010
Ford Motor Company Research Headquarters, Dearborn, MI, 2012
Google Inc., Mountain View, CA, 2014
Awards & Honors:
Best Presentation awards for outstanding papers in 'Power Electronics for Utility Interface' sessions at IEEE APEC conferences held in 2013 as well as 2015.
Steering Committee Member of IEEE Power Electronics Society's Mentorship group (2017 to present).
General Chair of the IEEE PELS Mentorship round tables' event during ECCE-2017 conference
Web Content Manager for IEEE PELS Young Professional (YP) Group (2015 to present).
Active reviewer of reputed IEEE/Elsevier journals, including Transactions on Power Electronics (TPEL), Transactions on Industrial Applications (IAS), etc. as well as for reputed IEEE conferences such as APEC and ECCE.
General Secretary of award winning Texas A&M University's IEEE IAS/PELS/PES SB chapter (2012-2013).
Innovation Champion award certificate from GE for multiple invention disclosures.
GE's DFSS and DMAIC 6-Sigma Green Belt Certification.
Silver Medal (Proficiency) for top rank at the Electrical & Electronics Engineering department, NIT Tiruchirappalli.
Editorial Boards:
Associate Editor, IEEE Transactions on Power Electronics
Research Interests:
Advanced power electronic converters and control for utility grid integration of renewable energy sources (wind, solar, etc.) and adjustable speed drives
Power conversion for data centers, electric vehicles, battery energy storage, etc.
High power density converters and packaging techniques for applications in extreme environments such as aerospace and fossil energy extraction (subsea and downhole)
Power supply design, modeling and control, analog circuit design and EMI/EMC
Six Sigma based statistical analysis for power systems, consumer and IoT applications
Selected Publications:
Solid State Transformer for Grid Interface of High Power Multi-Pulse Rectifiers, HS Krishnamoorthy, JJ Sandoval, PN Enjeti, Industrial Applications, IEEE Transactions on – Accepted, Early Access, 2018
Isolated AC – DC Converter using Medium Frequency Transformer for Off-Shore Wind Turbine DC Collection Grid, HS Krishnamoorthy, MT Daniel, J Ramos-Ruiz, PN Enjeti, Industrial Electronics, IEEE Transactions on, 2017
Wind Turbine Generator–Battery Energy Storage Utility Interface Converter Topology with Medium-Frequency Transformer Link, HS Krishnamoorthy, D Rana, P Garg, PN Enjeti, IJ Pitel, Power Electronics, IEEE Transactions on 29 (8), 4146-4155, 2014
Power Electronics for Subsea Systems: Challenges and Opportunities, K Rajashekara, HS Krishnamoorthy, Power Electronics for Distributed Systems (PEDS) Conference, 2017
Medium voltage power distribution architecture with medium frequency isolation transformer for data centers, B Hafez, HS Krishnamoorthy, P Enjeti, S Ahmed, IJ Pitel, Applied Power Electronics Conference and Exposition (APEC), 2014
A new wind turbine generator/battery energy storage utility interface converter topology with medium-frequency transformer, HS Krishnamoorthy, D Rana, PN Enjeti, Applied Power Electronics Conference and Exposition (APEC), 2013
A new multilevel converter for Megawatt scale solar photovoltaic utility integration, HS Krishnamoorthy, S Essakiappan, PN Enjeti, RS Balog, S Ahmed, Applied Power Electronics Conference and Exposition (APEC), 2012
Independent control of series connected utility scale multilevel photovoltaic inverters, S Essakiappan, HS Krishnamoorthy, P Enjeti, RS Balog, S Ahmed, Energy Conversion Congress and Exposition (ECCE), 2012
New medium-voltage Adjustable Speed Drive (ASD) topologies with medium-frequency transformer isolation, HS Krishnamoorthy, PN Enjeti, IJ Pitel, JT Hawke, Power Electronics and Motion Control Conference (IPEMC), 2012
A matrix converter-based topology for high power electric vehicle battery charging and V2G application, HS Krishnamoorthy, P Garg, PN Enjeti, IECON 2012-38th Annual Conference on IEEE Industrial Electronics Society, 2012
A new utility-scale power converter for large fuel cell power plants with individual stack power control, HS Krishnamoorthy, JT Hawke, PN Enjeti, Applied Power Electronics Conference and Exposition (APEC), 2012
A new medium-voltage energy storage converter topology with medium-frequency transformer isolation, HS Krishnamoorthy, P Garg, PN Enjeti, Energy Conversion Congress and Exposition (ECCE), 2012
Books:
Co-author (12th chapter) of the book, "Reliability of Power Electronic Converter Systems" (ISBN: 978-1-84919-901-8), IET – Published in 2015
Patent/Patent Applications:
Integrated Electric Meter with VAR Capability (US 2012/0169300 A1, EP2472693A2)
Systems and Methods for Temperature Compensation in a Utility Meter (US 2014/0100808 A1)